BLOG
【 PURE CHABLIS SHOP TASTING 】
HOC cordially invites you to our Central Shop to explore the delights of Chablis. From Petit Chablis to Chablis Grand Cru, the wines of Chablis offer a wide range of aromatic profiles and expressions to suit different gourmet. Here are a few great appellation pairings for inspiration: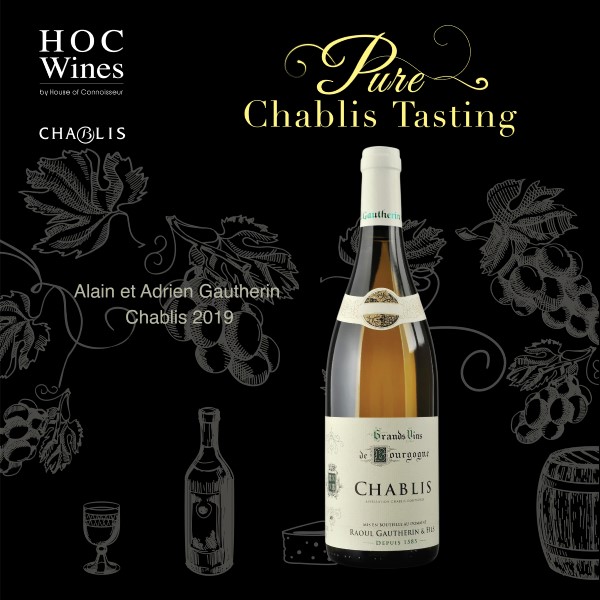 《 Alain et Adrien Gautherin Chablis 2019 》
Chablis with grilled or poached fish, curry dishes and sushi. It is also a perfect balancing act with the melting texture of raw oyster

《 Alain et Adrien Gautherin Chablis 1er Cru Montmains Vieilles Vignes 2018 》
Chablis Premier Cru with cooked oysters, fish in sauce, white sauce poultry or veal.

《 Alain et Adrien Gautherin Chablis Grand Cru Les Clos 2017 》
Chablis Grand Cru with foie gras, grilled lobster or crayfish in creamy sauces, white meats and poultry in cream sauces.
Date

:

June 18, 2021 ( Friday )


Time

:

Since we are following the social distancing guidelines,

we will have 2 tasting sessions in order to avoid any risk.

Choose 1 of 2 Sessions :

4:00 p.m. - 5:30 p.m.

5:30 p.m. - 7:00 p.m.

Venue

:

Shop 2, LG/F, Century Square, 1-13 D'Aguilar Street, Central

Reservation

:

3703 3380

rsvp@h-connoisseur.com
HOC WINES Members will RECEIVE INVITATION & enjoy PRIORITY BOOKING for the Event.
A single purchase of $2000 at HOC WINES Central Shop will be eligible to become our Member ( Gold )
◆ ◆ ◆
◆ All bookings must be made in advance of the date of the event. A confirmed reservation/ticket is required for the event and is over the age of 18 years old.
◆ In the event of a force majeure, HOUSE OF CONNOISSEUR LTD., reserves the right, at any time, to cancel or reschedule the event, and shall not be liable for any delay or failure to meet our obligations caused by circumstances that are beyond the control of HOUSE OF CONNOISSEUR LTD. and its suppliers.
◆ Subject to availability, wines listed may be replaced with wines of a similar style and value.
◆ In case of any dispute, the decision of HOUSE OF CONNOISSEUR LTD. shall be final.

---