BLOG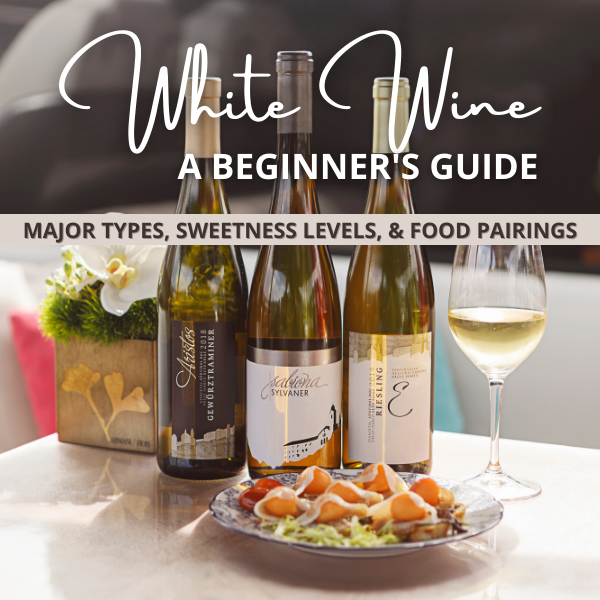 《 A BEGINNER'S GUIDE TO WHITE WINE: MAJOR TYPES, SWEETNESS LEVELS, & FOOD PAIRINGS 》
At the mention of white wine, you may hear similar descriptors like "fruity," "light," and "refreshing" crop up time and time again. But in fact, not all white wines are made the same. In this guide, we will introduce you to the major types of white wines, their characteristics, and how to pair them with food so that you can choose the perfect bottle of white wine for your next special occasion.
White wines are often named after the vineyard or the variety of grape from which they are made. The grape varietal and fermentation methods are the primary factors contributing to the different flavour profiles of white wines. However, subtle variations in terroir, including soil conditions, climate, exposure to sunlight, and even the type of barrel used, also influences the character and colour of the wine. With over 20 major, world-renowned white wine varieties—and not to mention, countless other smaller-batch counterparts—the world of white wines can be a bit overwhelming. If you are a beginner, here are three types of white wine that you should know about.
◆ Three Major Types of White Wines ◆
Chardonnay
Riesling as the world's best-selling white wine, Chardonnay is known for its potent aromas of zesty lemon and green apple, light body, and crisp, clean mouthfeel. Depending on the different regions, terroir, and production process, Chardonnay can exhibit an impressive range of styles. Beginners often look to Chardonnay as an ideal, entry-level white wine.
Riesling
Originating from Germany, Riesling is a classic white wine variety with moderate levels of sugar, relatively low alcohol content, and distinctive notes of fragrant apple. It is particularly favoured among those with a palate for dry and sweet wines. Riesling has six grades of sweetness. Typically, the riper the grapes are, the higher the sugar content in the white wine. You can also expect to see a higher price markup for sweeter Rieslings.
Sauvignon Blanc
Sauvignon Blanc hails from the iconic wine region of Bordeaux. With a harmonious fusion of fruity and floral aromas, the vivacious white wine is distinguished by its bright and acidic profile. Sauvignon Blanc often carries tropical notes of green apple, passion fruit, alongside hints of green herbs. Many oenophiles would agree that Sauvignon Blanc encapsulates the "purity" and "flawlessness" of white wine.
◆ Principals of Pairing White Wine with Food ◆
White wine and seafood are a classic pairing, but many appetizers, salads, and other dishes can also play well to the unique characteristics of white wine. Riesling has a rich fruity aroma, full-body, and moderate sweetness, making it a suitable match for curries, Thai and Indian cuisine, and other richly flavoured dishes. Meanwhile, Sauvignon Blanc's tangy, bright punch and complex fruity flavours shine when paired with Italian cuisine or barbecue dishes.
---